By SSA Youth Influencers Megan Evans (GT) and Zama Mazibuko (KZN)
There is an old yarn that most Scouts are probably familiar with about an old man walking down a beach littered with small starfish that had been washed up with the tide. As he continues walking, he notices a girl in the distance, picking up one starfish at a time and placing it back into the water.
"Excuse me, why are you throwing the starfish into the ocean?" asks the man.
"Because the sun is up and the tide is out, and if I do not return them to the water, they will die," replies the girl.
"But there are miles and miles of beach and thousands of starfish. You cannot possibly make a difference!"
The girl then reaches down and throws another starfish into the sea.  "It made a difference to that one!"
Recently national news outlets and social media were sharing the devastating stories from within KwaZulu-Natal (KZN) where flooding and landslides reportedly took the lives of more than 448 people, destroyed more than 4000 homes, with a further 8300 damaged, and much of the province's infrastructure wrecked. This was the cue for the Rovers within KZN to jump into clean-up actions and the Rovers in Gauteng to spearhead a relief effort for those affected by the flooding.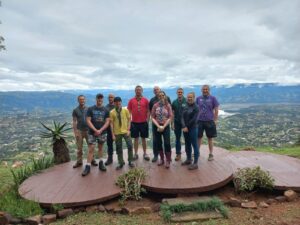 "You can't always wait for someone else to do something, or someone else to take action," says James Weetman, the Gauteng Rover who headed the relief action.  "It was clear what needed to be done. I just wasn't sure where to start, and how we were going to pull it off within a day," continues James. "On Thursday morning, I messaged Dawn Ledbitter, the Gauteng RTC Rover Programme, asking for support from the region in trying to be of service to those in need.  Around the same time, whilst conceptualising this idea, our Gauteng Regional Commissioner Angus Hay had shared a news article that reported that the water supply to Durban had been cut off.  Within 3 hours, I had managed to contact Rovers from across the region and organized 11 different drop-off points, where water, non-perishable food, clothing, and toiletry items could be dropped off. An advert was made, and spread across social media like wildfire, with the collection effort even being featured on MixFM."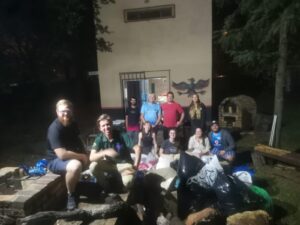 "We really had no idea how successful we were going to be in collecting resources," adds Dawn. "If we had collected 3 bottles of water and two shopping bags of food, it would still have made a difference to someone, and we could have sent it through a contact we had who was driving down to KZN. However, what was collected within the next day far exceeded everybody's expectations. It was only when all the collected items were dropped off at Arrowe Park and we started organising and counting, did we realize just how much we had collected, and just how generous everyone had been.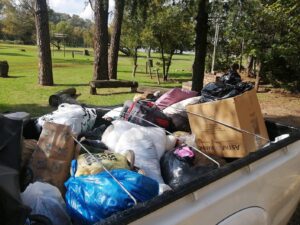 By 7:30 PM on Friday night, we had managed to collect R9000 in donations, dozens of black bags worth of clothing, about 1400 liters of water, and more than 1000 units of food items that could be distributed to the flood victims who had lost everything."
On Saturday, at 6 AM, the Gauteng Rovers left in a convoy of 5 cars with 4 trailers embarked on their journey to KZN, with only R9000 to fuel them for the inter-provincial journey ahead of them. However, by the end of the weekend they had amassed R19000 which allowed them to cover all petrol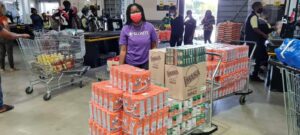 costs, and to purchase more food and resources which were donated to the identified beneficiaries together with more donations that were still pouring in from across Gauteng.
On the way to SCOUTS South Africa's BP campsite in Durban, the team met up with PMB Rovers who also had donations and help to offer. The Rovers set foot on BP campsite soil at 3:30PM, but there was no time to rest as everything had to be unpacked and sorted. KZN Regional Commissioner Garth Kloppenborg organised supper for the Gauteng Rovers which consisted of delicious soup and bread rolls that sustained the team as they sifted and sorted through the clothing items.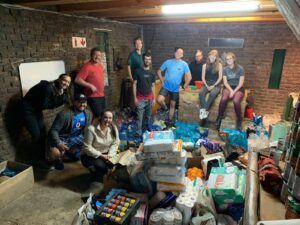 Whilst packing the donations, and identifying where the support would be delivered, the team heard from Garth and Lynton Cloete, RTC Scout Programme, about the terrible loss and devastation that people were experiencing. They soon realised the massive impact and real relief that their Region's donation would make. "This is what Scouting and Rovering is all about," said Garth with a grateful smile. "Youth coming together to do their best and being prepared to be of service". It was a moment of bonding between the KZN and Gauteng teams, as well as a joint feeling of relief that as Scouting youth we were about to help people.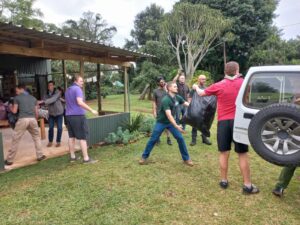 The next morning the team woke up bright and early and the drop offs went well. "Although it feels like we were only a drop in the ocean, someone now has a jacket because of us. Someone has something to drink and eat because of the generosity of people in our region and our actions as Rovers. That  in itself is pretty significant," says James. "I can't believe that at the drop of a hat, on Easter weekend, 39 people volunteered to man collection points, transport goods, count items, and deliver these items."
The team worked closely with Denzil Barnard from 1st Hillcrest Scout Group in coordinating the deliveries. Donations were given to the Crest Community Centre for the Hotchstrings community outreach, The  navigation of the route was tricky as some of the roads had collapsed and the devastation along the way was quite apparent, and heart-breaking to see.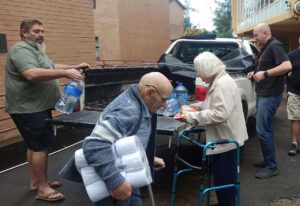 The Rovers also worked with Clint McLain from the organisation Ubuntu Army which supplied relief to the informal settlements Inunda Valley, iNtuzuma, Mzinyathu and George Dale, as well as smaller NGOs. The team also dropped off aid at Upper Highway Baby Home that houses over 2000 babies, with the youngest being only 4 days old at the time. Durban North SPCA also received dog food.
Before returning home, the Rovers decided to do one more good turn and  headed to Durban North Beach which was littered with not only rubble, but household items and litter that only reenforced the  loss and suffering brought by the floods. They filled 15 bags of litter.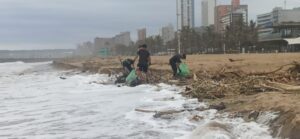 "It was an honour and a privilege to serve," says Dawn humbly. "Hearing people say "You're a Scout, you've got this" and experiencing the overwhelming sense of trust and confidence people have in us as Scouts, was gratifying. I think our relief effort allowed many of us in Gauteng to help the victims in KZN I think many people had the desire to help but had absolutely no idea how to. As Scouts, our duty is always to be useful and to help others. This relief action showed just how willing everyone in the Scout Movement is to help fellow Rovers and  complete strangers. An exclamation that kept coming up this weekend was that "It doesn't fit in the car," and that just shows the generosity of our community and movement. So, to everyone that donated, that manned collection points, that helped transport and count items, and to the team that helped with the transport and delivery within KZN, thank you!" concluded Dawn.
The beneficiaries of the donations received were:
Crest Community Centre
Siyajabula Trust
Molweni
Madimeni
Waterfall Pantry
SPCA Durban & Coast
The Elders Voice
Upper Highway Baby Home
Through Ubuntu Army:

Mzinyathi
Inunda Valley
iNtuzuma,
George Dale
as well as smaller NGOs