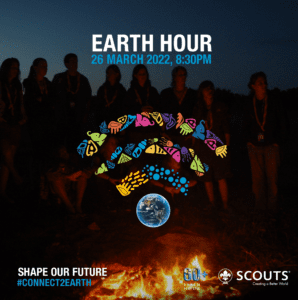 Every year on the 26th of March Scouts around the world join the Earth Hour initiative and take action for climate change.
Together with millions of people we switch off our lights at 8.30pm for 60 minutes and shine an alternative light on the challenges our planet faces.
The 2022 theme is :Shape our Future".
So, let's Shape our Future!
As SCOUTS South Africa we challenge you – our members – to not only switch off your lights for an hour, but to also include the National Scouts Go Solar challenge in your programmes for the next term!
Inspire your Meerkats, Cubs, Scouts, and Rovers to make better choices to shape our future and that of generations to come. Send us your photos, let us know what your Meerkats, Cubs, Scouts and Rovers have to say about making smarter choices under the sun!
Scouting is a movement for good. Earth Hour is a symbol of solidarity and a catalyst for global change. Let's combine forces this year as we learn to shape our future for the benefit of our planet and its inhabitants!
#EarthHour #Connect2Earth #Scouts #EarthTribe #scoutssouthafrica #Skills4Life #Scouts4SDGs #ScoutsGoSolar #WWF #ShapeOurFuture